Welcome to the "Let's Get Cricky" Blog Hop!!
This month's hop is in support our fallen HEROES... We will each be featuring special "Thank You" cards to be delivered during the
"Run for the Fallen" in Maine
...
"Run for the Fallen Maine is an organization dedicated to keeping alive the memory of our military heroes that gave their lives to protect our freedom since September 11, 2001.

On Sunday August 21, 2011 the 4th run to honor our heroes will be held. This is a 65 kilometer event with each kilometer being dedicated to the memory of one of our heroes that lived in Maine, had family from Maine or had some ties to our home State."
One of our Design Team Sisters,
Rebecca of The Crafting Misfit
, will be hand-delivering these cards during this very special event... If you would like to help support this cause, we invite YOU to join us in making a card or two to say "THANKS"... You can find the address to mail your cards by clicking
HERE
. The organization is also accepting donations for the event. You can find more information about donating by clicking
HERE
...
If you've hopped along from
Kathy P's blog
then you are in the right place!! If you are just joining me from your dashboard, or reading this via email, please be sure to
CLICK HERE
to start at the beginning with
K Andrew's blog
(I wouldn't want you to miss a THING!!)...
I have some
Blog Hop CANDY for one lucky WINNER!!!
Since this hop is all about our Soldiers I thought it would be appropriate to give you all a
chance
to use these fabulous stamps and create some of your own cards for your fellow American. One lucky winner will receive this stamp set. Now remember, you can always go
here
and order your very own set and know that you are also donating to a charity when you do so.
Each of Kristal's stamp sets benefit charity. At least $1 per stamp set goes to benefit the charity noted on the stamp set package. Kristal is donating to the following charities: Cancer Angels, Storefront Shelter for Homeless Children, Intrepid & Fallen Heroes, Doorways Shelter for Women & Children (Domestic Violence), and Autism Research Institute. Kristal will donate $1 for every stamp set sold, retail or wholesale to the charity noted; and over time believes this will add up to some wonderful miracles for these special people. So you can feel good that each time you purchase a
K Andrew Designs
art stamp set, someone around the country is receiving some good help!

K Andrew Designs stamps are all made and assembled here in the USA, which is very important to Kristal. This ensures all product materials are safe and that jobs are being provided and maintained here in America.

I am featuring the "Freedom Isn't Free" Stamp Art Set for tonight's hop. $1 from the sale of each "Freedom Isn't Free" stamp set is donated to Intrepid Fallen Heroes -- a non-profiit organization that provides rehabilitative services to US military members who are severely disfigured from combat.


I am so thrilled to be doing this hop because
this one hits close to home for me.
Both my grandfather's were military. In fact, before
they knew each other they fought the same war on opposite sides.
My dad was Army, my youngest brother Marines, I was Air Force,
many uncles were in the Army and Marines.
My Son-in-law was Army
and my youngest wants to join the Air National Guard,
so that he can fly jets!!!
So do you understand why this is so important to me?
So let's get on with its.
Embossed background with stars cuddlebug folder
Hearts SVG file
Ribbon Tutorial in video below
Video tutorial for ribbon altering
My youngest is obsessed with Air Craft carriers
and he suggested this card.
Also used the Splashtastic-Summer stamp set.
for the You float my Boat.
Stand and Salute Cart
I also used the A Hero from the Amazing You stamp set.
Now this one is sold out, but I just might have an extra one to give away in the very near future.
So make sure you stay tuned to my blog if this one interests you.
If you want to stamp on shiny paper,
make sure you heat set it so it doesn't smear.
Stand and Salute Cart
Wiper card
Stand and Salute Cart
Stars are aluminum cans, embossed with the stars
cuddlebug folder and cut out individually.
USA is silver vellum embossed with the stars
cuddlebug folder and inked.
Using the dog tag stamp, I cut out and used part of the
God Bless The USA sentiment. Added a ball chain
and pop-dotted to the Wiper
Stamped on ribbon...works great with the stamps
Stars are paperclay and embossed with UTEE
to make them shiny...and yes
it's a wobble.
Stand and Salute Cart
This is my 2nd favorite. We live 1 mile directly across from the
airport and our Air National Guard flies their F16 almost daily
over our house. When they fly over I know that is the
SOUND OF FREEDOM
and I definitely sleep peacefully tonight because of them!!!
Stand and Salute Cart
Now see how many different cards you can make with just one stamp set? Or you can even mix and match and also use part or all of the stamps to create whatever you desire. So I hope you've enjoyed my card selections. I'm not sure about all of them, but if you would leave me a comment and tell me which 3 you prefer I send to Rebecca to hand out; I will send her the top 3 everyone suggests. The other 3 I may take to our local VA and pass them out...

Now you can hop on over to your next stop,
(but before you do, remember to leave me a comment and do become
a follower if you aren't already, please):
If you would like to see all of Kristal's stamp sets and learn more about the charities she is supporting, please click on the blinkie below...
Our special Guest Designer for this month's hop is Amy Chomas!! Amy is the creator and designer of Chomas Creations. Her family makes her products right here in the USA, and they ship each package out themselves. Amy's mini gel pens and gel pen holders are the perfect accessory for any Cricut or Silhouette owner!! She also features a mini marker holder and embossing kit that will take your crafting to new levels!! To see more of Amy's incredible products, please click on her blinkie below: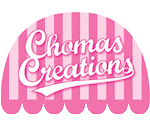 In case you get lost along the way or need to revisit anyone, here's the entire line up!! :)

I hope you have enjoyed my card and will consider joining us with a card or two of your own...